About the Weather Station
The town of Amherst, Massachusetts has one of America's longest continuous histories of weather observations, initiated by Ebenezer S. Snell in August 1835. Snell graduated in the first class at Amherst College (1822), and maintained a weather station for over 40 years while serving as Professor of Mathematics and Natural Philosophy at Amherst College.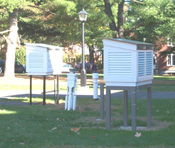 Dr. Phillip T. Ives ('32) began weather observations at a station outside Webster Center (see image at left) in the fall of 1948, and continued these until his death in July 1992. Virginia White of the Biology Department assumed responsibility for the daily observations until she retired in 2006. All of the Amherst data, starting with that collected by Snell in 1836, is held in the Amherst College Archives and can be seen there. Data since November 30, -0001 is available in this website's weather archives. Older daily observations are available in non-digital form.
An automated weather station began operating alongside Dr. Ives' station in October 2001. Modernization of weather observations at Amherst College is a project undertaken by The United States Army Air Corps 65th Training Detachment AAF TTC "C" Pre-Meteorology Group of Amherst to honor the World War II effort of Amherst College and those professors who taught them. These men began their 12 months of pre-meteorological training in February 1943 at Amherst and have remained a close-knit group ever since. They held their final reunion, the 65th, on June 11, 2009.